Welcome to our College Corner
Ms. Favaro and Mrs. Kunkel are thrilled to be working with the students and families of New West Charter School. We are dedicated to making the college preparation and application process enjoyable and accessible for all students. Through thoughtful planning, regular meetings and workshops, and individualized guidance, we work to create a successful path to college for all New West students.
We look forward to working with your family and helping our students on the path to reach their goals.
---
Ms. Favaro
Ms. Favaro is here on Mondays and Thursdays, 9:30am – 2:00pm. My office is always open for drop-bys during lunch! Email Ms. Favaro. (310) 943-5444 ext. 111.
---
Mrs. Kunkel
Mrs. Kunkel is here on Tuesdays and Wednesdays, 11:00am – 3:30pm, and always available to juniors and seniors during lunch. Email Mrs. Kunkel. (310) 943-5444 ext. 111.
---
Scheduling Meetings with our College Corner
Ms. Favaro and Mrs. Kunkel are available to meet with high students and their families throughout the school year. To schedule an appointment, please use the links below. Please note – in order to miss class for a College Corner appointment, students must have a signed pass from the College Corner. In order to not be marked absent, the pass must be given to the teacher before leaving class. This pass, signed by the teacher, will be required when a student arrives for his or her college meeting.
Helping students find colleges that get them excited and then giving them the tools to get there is the driving motivation in all the work I do.
— Ms. Favaro
---
More About Ms. Favaro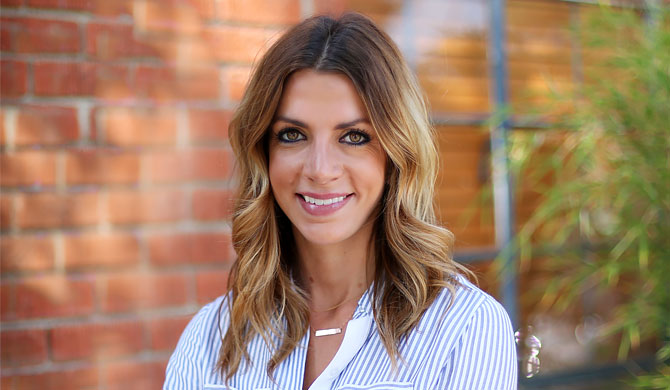 Ms. Kathryn Favaro attended the University of California, Santa Barbara, earning a BA in Communications. She has worked as a professional college admissions advisor for over eight years. She has worked as New West Charter's Head College Counselor for five years. As a counselor, Ms. Favaro enjoys mentoring, motivating, and focusing her students.
Ms. Favaro has always been passionate about working with young people. In an effort to help others discover their own college path, she completed the UCLA College Counseling Certification Program, receiving a Certificate with Distinction. She is an active member of Western Association for College Admission Counseling (WACAC) and Higher Education Consultants Association (HECA).
Ms. Favaro is available to meet with seniors to guide them through the exciting college application process. She advises students on building a college list, filling out college applications, writing admissions essays, finding letters of recommendation, and applying for financial aid and scholarships. During the second semester, she transitions to working with junior students. Ms. Favaro is excited for another successful year!
---
Every student can find a college or other post-high school education that is the right fit for them, academically, socially and financially. The college search and application process, believe it or not, can be fun!
— Mrs. Kunkel
---
More About Mrs. Kunkel
Mrs. Helene Kunkel attended Georgetown University, earning a B.S.F.S. International Politics, and has been a Los Angeles resident since 1977. After a career in insurance defense, she made the switch to college advising when her own children started high school, and completed the UCLA College Counseling Certificate program. She worked as a college advisor at Palisades Charter High School for eighteen years, the last seven as lead advisor, and participated in the college application process of over 12,000 high school seniors.
Mrs. Kunkel participates in extensive professional development, attending multiple conferences annually (National Association of College Admissions Counselors, Western Association of College Admissions Counselors, Regional Admissions Counselors of California, UC, CSU, College Board, ACT), and has traveled extensively to visit college campuses throughout the United States (30 states and over 200 campuses).
She is available to meet with juniors to start the college search process, and encourages parents to participate in the meetings. Getting organized and starting the process now reduces the stress factor and allows students to make thoughtful and rational choices. Mrs. Kunkel looks forward to working with New West families as their children embark on the path to college.
---
College Representative Visits
If you are a College Admissions Representative, and you are interested in visiting New West Charter, please contact our parent volunteer, Julie Tsao. New West Charter is thrilled to host college admissions representatives throughout the school year. Please let us know if you are coming to the Los Angeles Area!
---
2016-17 College Admissions Reps Coming to New West!
Come meet with the representatives from different colleges and universities from across the country. Reps will teach you about their college, answer questions, and help you understand the admissions and application process. Rep visits are open to any New West high school student.
These visits are announced in the morning student text announcements. Rep visits occur Monday – Friday during lunch.
---
Transcripts
New West Charter uses Parchment for sending official transcripts. Please contact Ms. Favaro if you need help setting up your Parchment account.
New West Alumni – please use Parchment if you need a copy of your New West transcript.
---
Naviance
Naviance is a comprehensive K-12 college and career readiness solution that helps districts and schools align student strengths and interests to postsecondary goals, improving student outcomes and connecting learning to life.
Seniors – An essential part of the college application process is completing your Senior Questionnaire and College List in Naviance. In order to request letters of recommendation, it is required that you complete this documents.
---
NWC CEEB code
New West's College Entrance Examination Board code, or CEEB code, is 054663.
---
Parent Workshops
1/19
Financial Aid Night
Thank you to everyone who came to our Financial Aid Night! It was such a success! In case you couldn't make it, or want additional information, Ms. Favaro took copious notes which you can find
here
.
2/16
8th Grade Life in High School Event
6:00pm
| All 8th grade parents are invited to join the high school team in order to learn more about what New West Charter offers for high school students. Students will attend the same event during the school day.
---
2/23
SAT/ACT Testing and Building a College List
6:00pm
| Join College Counselor, Ms. Favaro, as she discusses the fundamentals of college admissions testing and also explores how to find colleges that are a perfect fit.
3/23
Life After High School
6:00pm
| Don't miss the biggest event of the semester. Guest speakers will offer various workshops throughout the evening on everything from UC Admissions to Ivy League Colleges to The Benefits of Community College to Options for a Gap Year.
TBA
Making Summer Plans and Admissions Essentials
Join College Counselor, Ms. Favaro, as she discusses the key to planning your perfect summer and also overviews the important elements affecting college admission at all types of schools.
---
Approved Online Courses
New West Charter allows students to take online courses for credit in the following areas: Health and Credit Recovery (D or F). The following is a list of approved institutions for online courses:
---